Raw Materials Governance
It is important to recognise that the extraction, use and end-use or disposal of raw materials is governed by the interplay of government, private industry, and non-governmental organisations.
The instruments and regulations that are produced through this interplay govern our use of raw materials from the development of electric vehicles to laptops. Raw materials education exists within the wider context of this governance. The process of governing raw materials is not static and is subject to social, political and economic pressures.
The raw materials value chain crosses the globe, engages many people and institutions in various roles and with a variety of responsibilities, working to develop and implement the tools which govern raw materials supply chains. The international raw material markets are supported by various supranational and national legal systems, transport routes, market platforms (raw materials exchanges), and networks of information (for example national geological surveys). Indeed, this is a global issue and clear governance is only just beginning to take shape.
The State
The role of the state and its three powers: legislative, judiciary and executive (public services and the military), is to create a political and legal environment favourable to human development. It is each state's responsibility to:
ensure law enforcement
maintain order and security
create a national identity and vision
define public policies and programmes
generate revenue for public services and infrastructure
create and implement its budget
regulate and stimulate the market
The Private Sector
The private sector consists of businesses which, from the smallest business to the largest, grow within the market, create and provide goods and services, provide jobs and income for people and revenue streams for the state in the form of taxes. In the context of the circular economy and raw materials the private sector is involved in each step of the process: from exploration and mining, turning raw materials into products, reuse and recycling, to developing new materials and ways of making products through substitution.
Civil Society
Civil society comprises all members of society. People may be represented by non-governmental organisations, professional organisations, religious associations, women's associations, cultural or community associations, etc. Civil society enables political and social interaction, particularly by mobilising groups of citizens to participate in economic, social and political activities. A wide range of dynamic and differing opinions may exist within one society.
The presentation of the three spheres of governance simplifies a complex system, which can be at times in conflict, as there may be different types of relationships or goals within and between the three spheres. Interests may exist at different scales from local to national to international.
There are three spheres of governance: the state, the private sector and civil society. Each has a specific role within the raw materials value chain.
Stakeholders in the Governance of Raw Materials
The governance of raw materials within the framework of the circular economy from extraction to recycling and substitution is highly complex, with different players and institutions creating tools for different elements of the value chain. In some areas of the supply chain there is scope for individual action on the part of the state or government agencies, although increasingly decisions are made in partnership with the private sector and civil society. Joint interactions between public and/or private stakeholders collaborate to solve complex problems in critical areas where public innovation and flexible service provision are required.
For example, a supra-national forum, organised through the United Nations Environment Programme (UNEP), the Internal Resource Panel, has recently called for a reorganisation of the extraction industry to protect the industry against challenges such as:
the volatility of commodity prices and financialised commodity markets
the territorial nature of mining
disruptive impacts of technological change on employment
discrepancies between formally recognised rights to mineral resources and the needs and livelihoods of local communities
inadequate accounting and management of sector impacts on the natural environment and other assets
socio-political and geopolitical risks of mining at local, national and global levels
The report highlights potential pathways for better governance in this part of the raw materials sector – which includes a multi-stakeholder forum.
Similarly, the Responsible Raw Materials Initiative is a global industry-led programme which supports companies to "make informed choices about responsibly sourced minerals" in their supply chains.
An example of multi-stakeholder forum in existence at the EU level is The European Innovation Partnership (EIP) on Raw Materials. This is a platform that brings together representatives from industry, public services, academia and NGOs which can act as an example of multi-stakeholder governance. This forum brings together EU country representatives, the EU Commission, environmental organisations, trade and business representatives and international organisations such as UNEP and the OECD. The overall objective of the EIP on Raw Materials is to contribute to the 2020 objectives of the EU's Industrial Policy.  This aims to increase the industry share of GDP to 20 %. The EIP on Raw Materials also contributes to the objectives of flagship initiatives 'Innovation Union' and 'Resource Efficient Europe', to ensure the sustainable supply of raw materials to the European economy while increasing benefits for society as a whole. The EIP platform provides the opportunity for the raw materials community to discuss and exchange views on all relevant issues related to raw materials such as policy, technology, international cooperation and knowledge base.
European Institute of Innovation and Technology (EIT) RawMaterials

The European Institute of Innovation and Technology (EIT) is an EU body created by the European Union in 2008 to strengthen Europe's ability to innovate. The EIT is an integral part of Horizon 2020, the EU's Framework Programme for Research and Innovation. It is an independent EU body whose goal it is to increase Europe's ability to innovate by nurturing entrepreneurial talent and supporting new ideas.
EIT RawMaterials is the largest consortium in the raw materials sector worldwide. Its vision is to develop raw materials into a major strength for Europe. Its mission is to enable sustainable competitiveness of the European minerals, metals and materials sector along the value chain by driving innovation, education and entrepreneurship.
EIT RawMaterials unites more than 120 core and associate partners and over 190 project partners from leading industry, universities and research institutions from more than 20 EU countries. Partners of EIT RawMaterials are active across the entire raw materials value chain – from exploration, mining and mineral processing to substitution, recycling and circular economy. They collaborate on finding new, innovative solutions to secure supply and improve the raw materials sector in Europe.
2030 Agenda for Sustainable Development
The EU is committed to engaging with the topic of critical raw materials and is approaching it from many sides including industry, research and education. The EU has agreed to implement the UN's Sustainable Development Goals (Figure below) in which critical raw materials play an important role.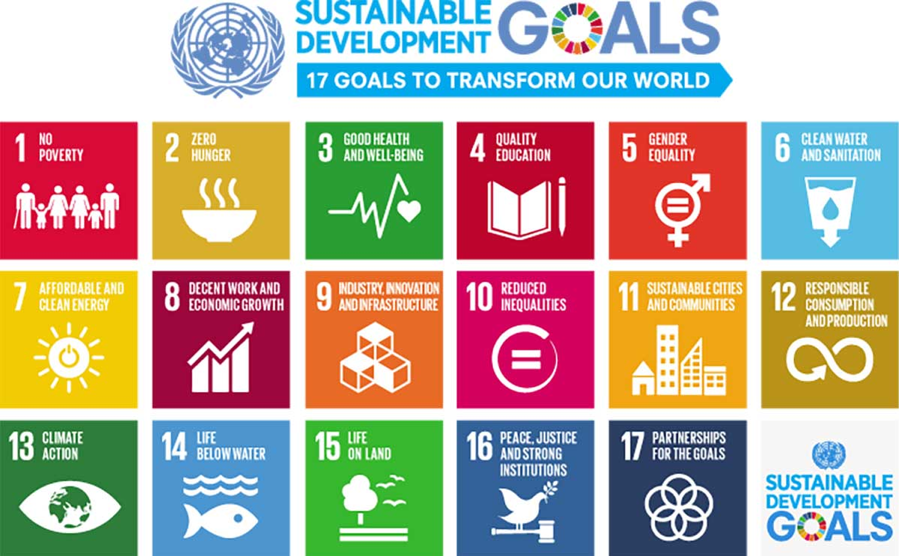 "Raw materials are critically important for implementing the 2030 Agenda for Sustainable Development, and for achieving the goals set out in the COP21 and several of the United Nations Sustainable Development Goals. Metals, minerals and raw materials are essential to securing a transition to green energy technologies, to secure growth and sustainable consumption and to securing access to clean and efficient consumer technologies. The European Union is strongly committed to implementing the agreements which aim at the sustainable development of natural resources and the shift to a green economy."